Quite a few things coming up here in the next few weeks. Well, o.k. I guess I only really know of 2, but if I had to venture a guess there's a lot more than that. Anyway.




Next Wednesday (September 19th) is the official start of the new challenge over at
Tales
from the Scales
.
Beth
has named it "Look Great in 2008". How catchy is she? Quite, I think. And I will be continuing my job as regular contributor, every Thursday. Thea Thursdays. It's alliteration at it's finest folks! Dust off those scales, food journals and treadmills and join us, won't you? So, are you in?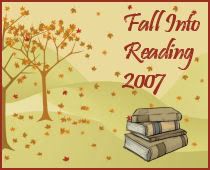 And Katrina over at Callapidder Days is starting a new reading challenge on September 23rd! Basically, make a list of books that you would like to read during the challenge (which runs September 23rd to December 21st), write a post about it, and then link up to Callapidder Days on the 23rd. I did my first challenge in the Spring, and I was amazed at how much more I was able to read during that time. It's a lot of fun!
Do you know of any interesting challenges, carnivals, or contests going on? Leave me a comment and I'll check it out. I'm all about the challenge!!