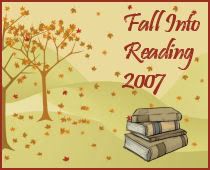 It's time again for the Fall Into Reading Challenge over at Callapidder Days. I really look forward to her challenges because my reading seems to slack off between. This way, I know I'm at least getting some (hopefully) good books in every 6 months or so! I'm anxious to get started, but because I don't own a single one of these books, I'm going to have to wait for them to open up at the library. I have 3 waiting for me now so I guess I'll start with those!

Here's my fiction list:
An Arsonist's Guide to Writers' Homes in New England (Brock Clarke)
Up High in the Trees (Kiara Brinkman)
When Crickets Cry (Charles Martin)
The Other Mother (Gwendolen Gross)
Nineteen Minutes (Jodi Picoult)

Here's my non-fiction list:
The Blessing of a Skinned Knee (Wendy Mogel)
A Life's Work : On Becoming a Mother (Rachel Cusk)
The Read-Aloud Handbook (Jim Trelease)

And this time around I would like to do a read aloud book with Jake. He's to the point now where he is reading so well, the "normal" books for his age or a little too young for him. He blows right through anything we get him. So, I am going to try reading Charlotte's Web to him everyday.